Many years ago I had the opportunity to work with a very unique musician -Bon Scott.
At that time Bon was with an Australian rock group called 'Fraternity'. Well - work with him is a bit of an exaggeration - I designed, built and operated the PA (amplifiers) for many of the rock groups active in South Australia at that time, and Bon liked the penetrating but clear power that came from my equipment. Bon lived for lyrics - and he wanted the audience to hear every word.


Here is a short extract from video of 'Fraternity' performing "Seasons of Change", in 1971, showing Bon's towering, commanding voice, a voice which was, and has remained, unique.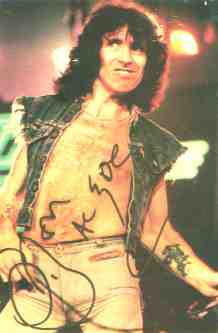 An excellent photo of Bon from the book "Highway to Hell - the life and times of AC-DC legend - Bon Scott", by Clinton Walker, Published in Australia by Pan MacMillan, in England by Sidgwick and Jackson, ISBN 0-283-06263-0, 1994.

This book is a detailed and sensitive biography of Bon Scott through both his formative stages with the Valentines and Fraternity and the better known years with AC/DC. The book may be hard to find, but it is well worth chasing down.


I most vividly remember Bon at the Largs Pier Hotel (which was one of the key hang-outs for 'heavy' rockers at that time). Off stage he was a quiet and unassuming guy, nice to be with. All this stupid hype I read in the press about devils and stuff is pure bullshit. He was basically a nice guy with a strong impish streak (and a minor criminal record) (who drank far too much).
That impish streak is what fascinates me, to this day, with this man.


For me, the definitive Bon Scott comes through most clearly on the Australian release of "Dirty Deeds Done Dirt Cheap" (available also in the UK) (ALBERT 465258 2). ( I am sure that the humor of Harry Vanda and George Young, who produced this record, also crept in there a little!!)
Table of contents:

Dirty deeds done dirt cheap
Ain't no fun (waiting round to be a millionaire)
There's gonna be some rockin'
Problem child
Sqealer
Big Balls
R.I.P. (Rock in peace)
Ride on
Jailbreak
For many years this album was 'censored' or 'altered' in the USA release, and the continuity of the musical production ruined. Make sure you buy the correct version (probably an import).
But it is the video medium that best shows Bon's sense of impish humor.
I think his antics 'preaching the sermon' in "Let there be Rock" from the AC/DC video best describe the Bon Scott I knew: an impish humor combined with a willingness to fearlessly challenge even the most stuffy of society's institutions.

The album is only on release in Australia and Europe and it is just called - AC/DC. The only version available is in the PAL video format. I bought my copy on a visit to London. Published by ALBERT, it is video number 49817-2 (CBS Music Video Enterprise, CBS Records Australia Ltd, 11-19 Hargrave St, East Sydney, Aust. Manufactured in Australia and New Zealand by CBS Records)

Contents: High Voltage, Jailbreak, Let there be Rock, Riff Raff, Dog eat Dog, Highway to Hell, Shot down in Flames, Touch too much, If you want Blood.
This video provides a good glimpse of the Bon Scott I knew.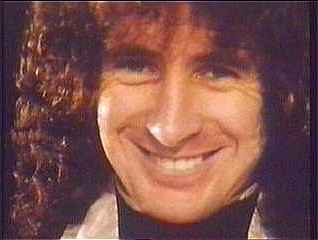 Here is a smiling Bon taken from the video.
"May your heart always be joyful
May your song always be sung
And may you stay - forever young
May you build a ladder to the stars
And climb up every rung
And may you stay - forever young"

( Bob Dylan)

Thanks Bon, and remember, mate, - "It ain't no fun waiting round to be a millionaire"......
---
All information published at this website is (C)Copyright 1995-2010 Trevor G Marshall.
All rights are expressly reserved. Click to email webmaster
---